Moving hour of commemoration
Church district Jülich recollects of Düren`s and Jülich`s devastation at second war
by Pedro Obiera
(Original german text below)
(JÜLICH) The church district of Jülich has recollected of Düren`s and Jülich`s devastation on 16. November 1944. It was performed by a moving musical-literary hour of commemoration at Schlosskapelle Jülich which was well joined.
Klaus Kenke chose seven appropriate poems and recited it in exemplary diction and impressiveness. The selection of the instrumental pieces was no less carefull by which the cellist Isabel Vaz and the pianist Vasco Dantas created especially lasting impressions.
"One day we will wake up and know that we did too less or the wrong one." This beginning of Walter Bauer`s poem dominated the 80-minute performance like a ledding theme.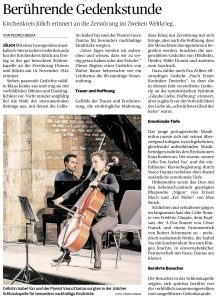 Sadness and Hope
The chosen poems by Hölderlin, Herder, Hilde Domin and others expressed emotions of grief and the powerful warning that war only involved devastation but also the hope that the mankind will understand it some day.
Eva Zellers poem of eleven stanzas "Nach erster Korinther Dreizehn" belonged to that.
The poet who passed away this year reminds of the optimistic symbols "Faith, Love, Hope" but warns at the same time against the fragility of charity which is the weakest link in the chain.
Emotional Depth
The young Portuguese musician duo adapted seamlessly to the recitations of  Klaus Kenke by their mainly calm introverted but nonetheless stirring music. Isabel Vaz`warm sonorous cello sound and the sensitive piano accompaniment of Vasco Dantas gave additional emotional depth to the evening.
Highlights placed the duo by Hebrew-Jewish characterised Rhapsodie "Nigun" by Ernest Bloch and "Kol Nidrei" by Max Bruch.
More unpretentious and restrained were interpreted the slow movement of Chopin`s cello sonata , the first movement of Cesar Franck`s sonata A major and the Fantasiestück by Robert Schumann. Isabel Vaz brought these melodic extensive works to a shining sound in consensual partnership with Vasco Dantas on the piano.
Touched Audience
The audience in the Schlosskapelle was noticeably moved by the exemplary composed and performed hour of remembrance.
(Original text in german)


Berührende Gedenkstunde
Kirchenkreis Jülich erinnert an die Zerstörung im Zweiten Weltkrieg
Von Pedro Obiera
JÜLICH  Mit einer bewegenden musikalisch-literarischen Gedenkstunde hat der Kirchenkreis Jülich am Freitag in der gut besuchten Schlosskapelle an die Zerstörung Dürens und Jülichs am 16. November 1944 erinnert.
Sieben passende Gedichte wählte Klaus Kenke aus und trug sie mit vorbildlicher Diktion und Eindringlichkeit vor. Nicht minder sorgfältig fiel die Wahl der instrumentalen Beiträge aus, mit denen die Cellistin Isabel Vaz und der Pianist Vasco Dantas für besonders nachhaltige Eindrücke sorgten. "Eines Tages werden wir aufwachen und wissen, dass wir zu wenig getan haben oder das Falsche." Dieser Beginn eines Gedichts von Walter Bauer beherrschte wie ein Leitthema die 80-minütige Veranstaltung.
Trauer und Hoffnung
Gefühle der Trauer und Erschütterung, die eindringliche Mahnung, dass Krieg nur Zerstörung mit sich bringe, aber auch die Hoffnung, dass die Menschheit das irgendwann begreifen werden, brachten die ausgewählten Gedichte von Hölderlin, Herder, Hilde Domin und anderen zum Ausdruck. Dazu zählte auch Eva Zellers elfstrophiges Gedicht "Nach Erster Korinther Dreizehn", in dem die in diesem Jahr verstorbene Lyrikerin an die optimistischen Symbole "Glaube Liebe, Hoffnung" erinnert, aber zugleich vor derVerletzlichkeit der Liebe als "schwächstes Glied der Kette" warnt.
Emotionale Tiefe
Das junge portugiesische Musikerduo passte sich mit seinen überwiegend ruhigen, in sich gekehrten, gleichwohl aufwühlenden Musikbeiträgen nahtlos den Rezitationen KausKenkes an. Der warme, sonore Cello-Ton Isabel Vaz' und die einfühlsame Klavierbegleitung durch Vasco Dantas verliehen dem Abend zusätzliche emotionale Tiefe. Höhepunkte setzte das Duo mit den hebräisch-jüdisch geprägten Rhapsodie "Nigun" von Ernest Bloch und "Kol Nidrei" von Max Bruch. Schlichter und verhaltener ging es im langsamen Satz der Cello-Sonate von Frédéric Chopin, dem Kopfsatz der A-Dur-Sonate von César Franck und einem Fantasiestück von Robert Schumann zu – melodisch ausladende Werke, die Isabel Vazmit leuchtendem Ton zum Klingen brachte, in einvernehmlicher Partnerschaft mit Vasco Dantas am Klavier.
Berührte Besucher
Die Besucher in der Schlosskapelle zeigten sich spürbar berührt von der vorbildlich zusammengestellten und ausgeführten Gedenkstunde.